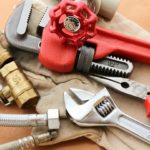 About Us
With over 20 years of experience, Futuristic Service and L.O.S.E. (Location of Slab Exposure) has been serving the Dallas/Ft Worth area since 2008.
Our Story
Futuristic Service, LLC. is committed to providing the finest plumbing repair and service in DFW. Our customers will receive services and products that meet or exceed their expectations or we will make it right. We have the finest trained plumbers and technicians to assist our customers at their home or business. We are committed to setting the standard for excellence in plumbing.
Contact Us
Have questions? Need to schedule an appointment? Give us a call.